Is it Bad to Be Rich?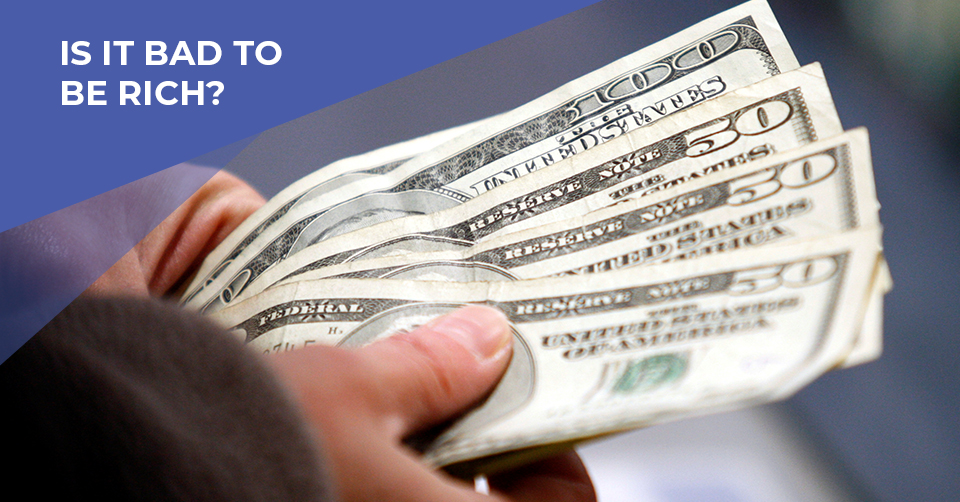 On the opposite side of pursuing wealth, comes the idea of total asceticism of worldly possessions. This assertion is often justified by the passage when Jesus speaks to a rich young man in Mark 10:17-27:
And when [Jesus] was gone forth into the way, there came one running, and kneeled to him, and asked him, Good Master, what shall I do that I may inherit eternal life? And Jesus said unto him, Why callest thou me good? there is none good but one, that is, God. Thou knowest the commandments, Do not commit adultery, Do not kill, Do not steal, Do not bear false witness, Defraud not, Honour thy father and mother. And he answered and said unto him, Master, all these have I observed from my youth. Then Jesus beholding him loved him, and said unto him, One thing thou lackest: go thy way, sell whatsoever thou hast, and give to the poor, and thou shalt have treasure in heaven: and come, take up the cross, and follow me. And he was sad at that saying, and went away grieved: for he had great possessions. And Jesus looked round about, and saith unto his disciples, How hardly shall they that have riches enter into the kingdom of God! And the disciples were astonished at his words. But Jesus answereth again, and saith unto them, Children, how hard is it for them that trust in riches to enter into the kingdom of God! It is easier for a camel to go through the eye of a needle, than for a rich man to enter into the kingdom of God. And they were astonished out of measure, saying among themselves, Who then can be saved? And Jesus looking upon them saith, With men it is impossible, but not with God: for with God all things are possible.
This story has been interpreted by some to mean that all Christians should avoid wealth at all costs, even to the extent of some suggesting that Christians should give up all earthly possessions. This story, however, is focused more on "where the treasure is" of this young man's heart. He valued his wealth so much that he was not willing to give up his treasure in order to follow Jesus. He had a legalistic view on who Christ was: he was willing to follow the commands, but not willing to sacrifice. His wealth had become a snare to him. Throughout the Bible, people are called to make sacrifices in order to serve God. Abraham gives up his country and family, Shadrach, Meschach, and Abednego are willing to give up their lives, and Mary is willing to give up her reputation and social standing in order to become the mother of Jesus.
So wealth in itself is not bad, so long as the wealthy person remembers that they are a steward of the wealth and uses it in a way that honors God. As 1 Corinthians 10:31 states, "Whether therefore ye eat, or drink, or whatsoever ye do, do all to the glory of God." Another example of this is Joseph of Arimathea. There isn't much known about him, other than that he was a secret follower of Christ who had opposed Jesus's trial. He was also very rich (Luke 23:50, Mark 15:43, and Matthew 27:57). At the risk of being expelled from the Council and his reputation being ruined, he asks to be in charge of Jesus's body. He uses his wealth to honor Christ by giving him a proper burial and taking on the responsibility of the expense.
Likewise, Solomon's great wealth was used to impress the unbelieving nations around them of God's great power (see the story of the Queen of Sheba 1 Kings 10:1-13). A rich person will certainly have to be careful of the lures of wealth, as the Bible cautions in 1 Timothy 6:17-19, "Charge them that are rich in this world, that they be not highminded, nor trust in uncertain riches, but in the living God, who giveth us richly all things to enjoy; That they do good, that they be rich in good works, ready to distribute, willing to communicate; Laying up in store for themselves a good foundation against the time to come, that they may lay hold on eternal life." A rich person must be a good steward of what they have been given, and protect their heart from trusting in "uncertain riches."